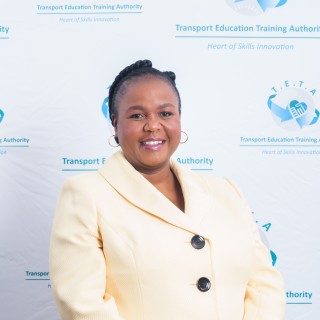 Mrs Maphefo Anno-Frempong
Chief Executive Officer of the Transport Education Training Authority (TETA)
On a mission to transform the domestic transport sector through skills development, creating employment and entrepreneurial opportunities, and building a pool of quality leaders is Mrs Maphefo Anno-Frempong, the Chief Executive Officer of the Transport Education Training Authority (TETA). Her entry to TETA ushered a wave of unqualified audits, strategic occupational programmes and innovative remedies addressing persistent sectoral challenges.
In her efforts to advance women in the transport sector into executive roles, among many other initiatives, she championed the introduction of two strategic occupational programmes; namely, the International Leadership Development Programme and International Executive Development Programme.
Her educational background can be traced to the University of the North (now University of Limpopo), the University of South Africa, Wits Business School, Rand Afrikaans University and the University of North West in areas of education, business management and strategic leadership. Mrs Maphefo credits the strong strides TETA is making under her leadership to strategic partnerships the organisation has managed to build with key industry players and leading educational institutions nationally and internationally.