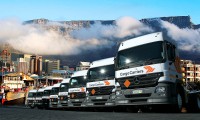 Cargo Carriers' Carbon Crusade
Sustainability is gaining traction as the world begins to take more notice of carbon emissions and its impact on the environment. Major players in across the board cannot afford to do business with organisations that are not environmentally responsible and do not demonstrate a firm commitment to reducing their carbon footprints.
The supply chain industry is an obvious area to begin up to 75% of most South African companies' carbon footprints derive from their logistics operations (5th Annual State of Logistics in South Africa survey). South Africa contributes to roughly 1% of the world's annual carbon emissions and 13% of those emissions stem from transport.
As a JSE-listed logistics and supply chain manger, Cargo Carriers has become a front-runner for environmental responsibility with the results of their third consecutive carbon footprint analysis conducted by Global Carbon Exchange (GCX) proving that their emission reduction initiatives have borne considerable fruit.
"The objective of this analysis was to prepare for potential regulation with plans to work more effectively in reducing our carbon emissions," says Murray Bolton, Cargo Carriers' joint CEO. "In reducing our emissions through various efforts, we have gained new business and been awarded various tenders. This proves that high levels of environmental responsibility are synonymous with increased competitive advantage."
Cargo Carriers takes great encouragement from the GCX findings. The Group's highest emitting source of GHG, as expected, is our revenue earning fleet at 31 865.09 tonnes CO2 e, followed by non-revenue earning fleet at 1 051.92 tonnes CO2 e and electricity at 933.66 tonnes CO2 e. The overall carbon footprint for 2012 increased by 1.32% from the previous year. The largest single emission source, fuel to power, the vehicles showed a 1.85% increase. This is due to the increase in general business activity with the trucking fleet driving more kilometres. The distance driven by the fleet increased by 6.4% and as such the carbon intensity per 1 000 kilometers driven decreased by 7.73%. This shows the efficiency gains as the company grows and does more business.
The result shows that working smart is as important as working hard to reduce ones carbon impact.
The company has taken numerous steps over the years to reduce its carbon footprint. In 2010, Cargo Carriers developed a depot in Evander that ran completely off solar power. The depot was considered a giant step forward in the logistics industry and quickly became a key differentiator in tender processes.
"The highest levels of SHEQ (Safety, Health, Environment and Quality) are a non-negotiable," explains Murray Bolton. "The ability to offer our clients access to carbon neutral depots and a reducing carbon footprint reinforces the overall drive towards sustainability."
Ezethu Logistics, a subsidiary of Cargo Carriers, also introduced the Euro IV fleet in a contract in 2010..
Euro IV was at the time the latest standard set by the European Union for acceptable carbon emissions. According to Murray Bolton, the Euro IV fleet upgrade, combined with Ezethu's high SHEQ levels became another key differentiator when looking for new business.
"As we continue to work in industries such as gas, fuel, chemicals and mining, we have to adopt the most environmentally friendly approach possible," says Murray Bolton.
In order to further reduce its carbon footprint in the years to come, Cargo Carriers' solutions division, CargoSolutions, has undertaken the task of researching and developing more practical solutions to implement measures that will result in quantifiable emission reductions. These solutions will not be found in the technical design of the vehicles we use but in the optimal design of the logistics solutions.
The company is also looking into replacement fuels such as ethanol, biodiesel, liquid petroleum gas or compressed natural gas which will be investigated and tested over the coming year. Cargo Carriers also seeks to increase the frequency and level of driver training programmes in order to optimise operational efficiency, and thereby the company's impact on the environment through potential incidents.
As Andre van Vuuren, Cargo Carriers' marketing director puts it: "The age old truism holds for one of the newest challenges for the transport industry. 'what you don't measure, you can't manage', our benchmarks have given all employees a reduction target. We are proud of the results achieved so far and our clients are delighted."