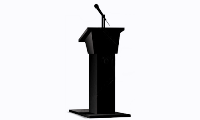 Speakers 2012
Below is a listing of the speakers who presented at the Clean Business International 2012 conference that took place at Gallagher Convention Centre in Midrand on the 1st and 2nd of October 2012.
Edwin Ritchken, Strategy Advisor to the Minister and Director General of the Department of Public Enterprises.
Ndivhuho Raphulu, Director of the National Cleaner Production Centre South Africa (NCPC-SA)
Dr. Tsakani Mthombeni, General Manager, Technology Innovation Agency (TIA)
John Thorby, Manager in the Business Development Department, IDM Division of Eskom.
Prof Gerrit van Tonder, Institute of Groundwater Studies, University of Free State
Chris Bredenhann, Partner, Energy Leader, South Africa
Jayne Mammatt, Associate Director, PwC Sustainability and Integrated Reporting
George Frederick (Ferdi) Linde, Senior Manager: Sustainability and Integrated Reporting, PwC
Garreth Bloor, Chair of Economic, Enviroment and Spatial Planning Portfolio, City of Cape Town
Prof Edson L. Meyer, Director: Institute of Technology, University of Fort Hare
Mvuselelo Mathebula, Deputy Director: Waste Policy and Programs, Environmental Infrastructure and Services Department, City of Johannesburg
Robbie Louw, Director, Promethium Carbon
Craig McKune, amaBhungane, Co-author of "The Investor who saved Mugabe"
Donald Pols, Programme Director, China for a Global Shift at WWF International
Gustav Radloff, Managing Director and co-founder of Energy Cybernetics
Rudolph Fourie, Director, Alternative Prosperity Group
Ken Robinson, Senior Executive: Resources Practice, Accenture