Brenda Ntombela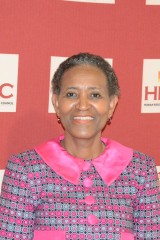 Brenda Ntombela is the Head of Secretariat: Human Resource Development Council. She is responsible for the overall leadership and management of the Secretariat. Brenda is a graduate of the University of the North (now Limpopo), where she received her B Cur (I et A). She thereafter received her Master's Degree in Nursing from the University of South Africa. She also has completed various management courses.
Brenda has worked in various fields, such us Higher Education and ICT, where she served as a Councillor for the Independent Communications Authority of South Africa (ICASA). She also worked as a consultant in ICT policy making and regulations in Africa. She is a currently serving as a Council member at the Durban University of Technology
Brenda is an influential leader, with experience in strategic planning, policy and regulation formulation, research and conflict management to name but a few.
See other speakers