Busi Msimang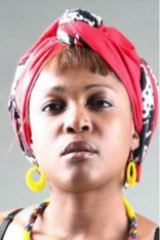 Sibusisiwe Msimang is the Founder and MD of Busisizwe Communications PTY L(LTD); in operation since 2008 and Pietermaritzburg in Kwazulu Natal. She has a IMM Graduate Marketing Diploma, a Marketing Certificate with the AAA School of Advertising, a New Venture Creation Qualification and is currently attending a Woman in Leadership Programme through Wits Business School sponsored by the CHIETA.
She has over 10 year's professional experience, her career started 1995 in the Advertising Industry at Hunt Lascaris Durban, she then moved into the cooperate world where she worked for international Multinationals companies such as Ford Motor Company, Unilever South Africa,Tiger Brands and Allaince Pharmaceuticals.
In 2008 she established Busisizwe Communications PTY (LTD) a Rural Development company which works with rural municipalities to expedite development and growth in the disadvantaged communities. The Company offers Rural Skills Development Projects targeted at rural youths, SMME's and Co:operatives. Our projects include training in Learnerships, Skills Progammes, Rural Empowerment Initiatitive and Events such as Learnership Awareness Expo's, Career Expo's, SMME & Business Faires.
Busisizwe Communications is a company driven by African values. We celebrate our country's diversity, cultural wisdom and we are proud custodians of the Zulu philosophy that states 'umuntu ngumuntu ngabantu'.
See other speakers