Corrie van der Wath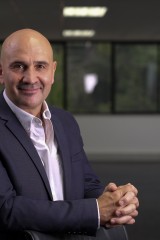 Corrie van der Wath is an experienced engineer, successful businessman, dedicated mentor and visionary leader. He holds directorships on various Boards, most notably as CEO of Matleng Energy Solutions and Chairman of Pendo Energy Solutions.
Corrie has several formal qualifications in Engineering, Commerce, Business Management, Industrial Psychology and Psychology.
Over the past year Corrie was part of the team that won a number of prestigious awards which include the following:
Being a finalist in the Titans CEO Global Competition 2018/19, and the Continental Winner in the SME Sector 2018/19.
Corrie won the Mentor of the Year Category in the AON CESA Engineering Excellence Awards 2017, with Matleng winning the Young Company of the Year Category.
Finalist in the Medium Business Category of the Sanlam Business Partners Entrepreneur of the Year Competition 2017, advancing from being a finalist in the Small Business Category in 2016.
In 2017 Corrie was announced as a Finalist in the 15th National Business Awards as Top Performing Entrepreneur.
See other speakers