Dikeledi Mosalo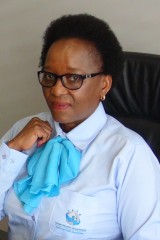 Dikeledi Mosalo holds a position of Executive Officer in the Road Freight Chamber at Transport Education Training Authority (TETA). She is responsible for the facilitation of training and development within the road freight sub-sector. Before joining TETA Dikeledi worked in the Skills Development and Training arena for more than 15 years focusing on Skills Planning and Research.
Outside the skills development environment, Dikeledi served as Board Member for Mpumalanga Department of Transport responsible for regulation of road passenger transport and Mpumalanga Liquor Board regulating the liquor industry, later for the Gauteng Department of Transport Board and Gauteng Liquor Board.
She is in position of B.Comm Hours in Economics from the University of the North, a Certificate in Policy Formulation from Clyngedile University in the Netherlands and Project Management from Wits University.
See other speakers