Elmond Khoza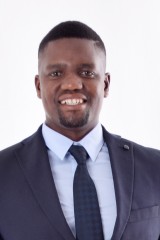 Elmond Khoza is the co-founder and executive chairman of Lamo Solar, a
fast growing engineering, procurement and construction solar photovoltaic
firm. In his role he ensures the company brings cutting-edge solar energy
solutions through innovation, with a desire to provide solutions that are in
harmony with the environment and also sustainable for the future. Elmond
has an eight year track record of working in the renewable energy sector.
Qualifications:
BSc. Electrical Engineering, Honors Degree
Accolades:
- 2017 Bizcr8 Entrepreneur of the year
- Lamo Solar, winners in the 2016 Eskom Business Investment Competition,
in the Engineering and Construction category
- In 2013, he designed the first facade Building Integrated solar system in
Africa for the GCIS building in Pretoria, which also won the SAPOA
award.
Other interests:
1. Additive Manufacturing (3D Printing)
2. urban Agriculture
3. Youth Entrepreneur Mentorship
See other speakers