Jonathan Molapo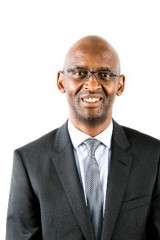 Jonathan Molapo is the CEO of Astron Energy Pty Ltd, having been appointed in September 2018. With over 21 years of experience within the petroleum industry, Molapo previously served as COO for Africa, Puma Energy Holdings Pty Ltd, following an 18-year career at Total. Molapo's career at Total began in 1997 and saw him fulfil various senior leadership roles which included General Manager: Logistics & Supply between 2005-2008, Managing Director: Ghana from 2008-2011 and then as Vice President Central and North East Africa between 2011- 2015.
Molapo served as an executive chairman of Total Kenya Ltd from 2013-2015 and currently serves as a non-executive director of AECI Ltd.
He holds a BA degree in Economics from Laurentian University in Canada. He also completed an International Executive Programme at INSEAD Graduate Business School in France.
See other speakers