Modise Makhene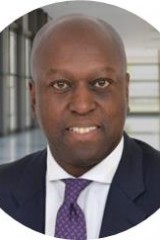 Modise Makhene is a Partner and Director in the Johannesburg office of Stanton Chase, South Africa.
Previously he was a Principal at another international executive search firm, and prior to that he was the South African CEO of international advertising & communications firm JWT.
Modise has extensive business development and client relationship management experience having worked in FMCG, Finance, Media, Advertising, Digital & Communications industries. He has worked with clients in the Retail, Automotive and Telecommunications sectors as well.
He is a trustee of The President's Award for Youth Empowerment. The organisation runs a self-development programme for young people. Former President Nelson Mandela was the founding Patron-In-Chief of the South African chapter organization.
Modise holds a Bachelor of Business Administration from the University of Iowa and an MBA from Howard University, in the United States.
See other speakers