Mr Mvuleni Stephens Thobela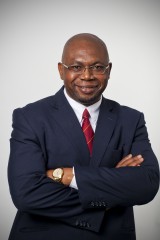 Steve Thobela started his career as a typographer, and was Regional Chairman of the Media Workers Association of South Africa (Mwasa). He worked in the print production departments of the Pretoria News, Perskor, the Sowetan and The Newspaper Printing Company before becoming Operations Manager of Independent Newspapers Cape. He qualified as an artisan in the Printing Industry and also holds a Christian Ministry Diploma, a Bachelor of Business Administration (BBA) degree and recently completed his Masters' in Business Administration (MBA) degree.
He served for four and half years as the Founding General Manager of one of the three of Mr Mandela's official Charity organisations, The Mandela Rhodes Foundation based in Cape Town. He also served as Director Print Production at the University of South Africa, Unisa.
Currently, he serves as the CEO of Printing SA, an Industry Trade Organisation responsible for the sustainability of the Printing and Packaging Industry.
See other speakers