Thamsanqa Caleb Maqubela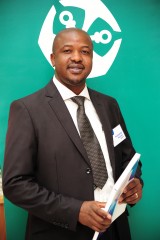 Maqubela serves as a member of the Presidential Youth Working Group (PYWG), appointed by President Zuma to advise him on matters of youth employment. He is the Chairman of the Economic Transformation Work Stream since September 2015 and is the Special Advisor to the South African Union of Students from April 2014. He is the Founding Chairman of the SA Council for Graduates Cooperative (2013) and a co-author of two books : South Africa at 20: For Better or For Worse and Let Us Pray – Prayer Solutions for A Professional Like You.
He served as the Chief Executive Officer of SAGDA from 2010-2015. His dream of full employment for graduates in South Africa has propelled him to take the reigns at SAGDA, where he worked full time for 16 months with no salary, while growing the organizational revenue from high levels of indebtedness in 2010 to over R100 million in 2013 budget.
He is an internationally recognized marketer and scholar with local and international awards in his field. The World Association of Cooperative Education Inducted Maqubela into the Coop Hall of Fame (USA) for the 2014 and 2015 period. In 2011, he was awarded a Platinum Award as a Top 100 young entrepreneurs in South Africa by the SA Youth Chamber of Commerce. Mail & Guardian rated Maqubela as one of the Top 100 South Africans to shape the Education of the Nation and Top 100 Young Leaders (rating 55) in 2005 and 2006 respectively.
Maqubela is a graduate of Vaal University of Technology (marketing national diploma, cum laude 1996); Charles Sturt University in Australia, marketing exchange student 1995 and Korea Development Institute School of Public Policy & Management, MBA in Strategy & Global Management 2002 as recipient of the Global Ambassador Fellowship. He has served higher education for 19 years as HoD International Relations (VUT 1996-2003); CEO, UNITECH (MACE 2003-2006) and Chairman, Qhubela Holdings (2006-current). He is also a board member of Arebaokeng Hospice in Tembisa and Study Trust Bursary Organization.
See other speakers