Tshiamo Dichabe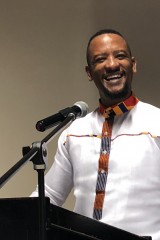 Tshiamo Dichabe is a young dynamic professional with expertise in business strategy conceptualization, policy development and programme management. He holds a B.Com degree from the University of Pretoria and he is currently enrolled at the University of South Africa (UNISA) to complete a B.Com (Honours) degree. He received further Entrepreneurship Development training at Lincoln University (Missouri - USA) through the Mandela Washington Fellowship Programme.
As the Co-Founder and MD of the Commercial Agricultural Youth Chamber (CAYC), Tshiamo has worked on various policies, programmes and projects, including the following:
National Youth Enterprise Strategy (Yes) 2006 (Quality Assurance)
Gauteng Agro-processing Strategy 2007 (GDACE)
Youth Entrepreneurship Campaign (YEC) 2010
NYDA Integrated Youth Development Strategy 2011
EPWP Phase II Policy Framework (2012) and EPWP Phase III Policy Framework (2014)
Comprehensive Africa Agriculture Development Programme (CAADP) NEPAD (2015)
Presidential Youth Working Group 2015
Mandela Washington Fellowship Alumni 2016
African Farmers Association of South Africa (AFASA) Free State Youth Summit (2018)
Food and Agriculture Organization of the United Nations (FAO): CFS-RAI SADC Region (2018) Capacity Assessment
National Policy on Comprehensive Producer Development Support (2016 - 2018)
Elected South Africa representative of the Young Professionals for Agricultural Development (YPARD-FAO-UN 2018).
Tshiamo is the Co-founder, Executive Director and Board Member of youth focused institutions and NPOs in Sub-Sahara Africa, including the Commercial Agriculture Youth Chamber – CAYC (Sec 21 NPO), Afrika Youth Leadership Academy (Sec 21 NPO), South African Youth Chamber of Commerce SAYCC (Sec 21 NPO), AgroSolutions (Pty) Ltd, Tsisimo (Pty) Ltd and Dichabe Investment Group (Pty) Ltd.
See other speakers