Automotive Industry Development Centre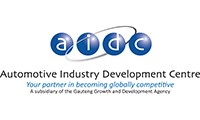 Automotive Industry Development Centre- Opportunities for Women
About AIDC
The Automotive Industry Development Centre (AIDC) is one of the leading implementation agencies within government, having pioneered numerous world-first automotive projects and being the recipient of several business accolades.
The organization is a subsidiary of the Gauteng Growth and Development Agency (GGDA), an entity owned by Gauteng Provincial Government's Department of Economic Development.
It was established as a government support centre to increase the local automotive industry's global competitiveness and to promote Gauteng as the automotive industry investment destination of choice.
The AIDC manages the Automotive Supplier Park (ASP), an automotive hub based in Rosslyn, housing various automotive component manufacturers, suppliers and service providers to OEMs including BMW, Nissan, Ford, Iveco and Tata.
A key driver for the AIDC is to promote Gauteng as an attractive automotive destination.
Gauteng, although landlocked, is close to the northern borders of South Africa, making it an ideal gateway to sub-Saharan Africa.
The AIDC understands that in order to become the catalyst for economic growth in the Province, the necessary are required
The AIDC strives to make excellence an attitude whilst delivering world-class service and support to the automotive industry.
The AIDC prides itself as a world-class organization which specializes in the following programmes which support women development:
Skills Development and Training, Learning Centre,
Supplier& Enterprise Development,
Incubation Programmes,
Facilities Planning & Maintenance,
ICT,
Township Enterprise Hubs
Various opportunities exist within all the above departments within the AIDC from artisans, industrial engineers, spray painters, panel beaters, trainers, electricians, internships, small & medium enterprise incubatees, administrative opportunities, etc.
The AIDC offers state-of-the-art manufacturing support facilities, to encourage opportunities within sector.
Please visit our website: www.aidc.co.za or contact us on 012-564 5001