SA Board for People Pratices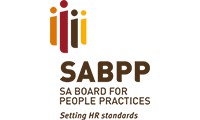 The SA Board for People Practices is the HR professional and statutory quality assurance body for HR Learning provision.
We are the voice for the HR Profession
We set standards for HR ethics and professionals
We build HR knowledge and competence
On 14 May 2014, under the leadership of the SA Board for People Practices (SABPP) and HR Future magazine, 74 HR professionals gathered in Mogale City to write the first set of HR Professional Practice Standards, supporting the National HR Management System Standard developed in 2013. The HR Management System Standard was already very well received throughout the country and sixteen other countries. Since last year, more than 1500 delegates attended roll-out sessions in six provinces plus in-house presentations to many employers, higher education institutions, top consulting firms and SABPP alliance partners. Thus, we have now entered Phase III of the National HR Standards journey. The three phases are: Development of HR Management System Standard (May 2013); Development of HR Management System Application Standard (August 2013); and Development of HR Professional Practice Standards (May 2014).
With the development of the Professional Practice Standards the focus shifted to specific HR professional practices such as succession planning, employee engagement, dispute resolution, training needs analysis and collective bargaining. Delegates from top companies such as Nedbank, Standard Bank, EOH, Pwc, Fraser Alexander, Anglogold, Goldfields, Sandvik and SARS worked in small groups, tasked with reaching a draft definition of the practice, a checklist or step-by-step guide and a process diagram. Professional practice standards set out the operational or tactical processes that constitute good practice. The professional practice standards give expression to practical issues in more detail than can be covered in the overall high-level HR Management System Standard.
For instance, career management was defined by the working group as a "structured process through which employees and the organisation work together to achieve a best fit or match of the employee's own career planning and self-development to the development of the organisation." This definition was followed up with a process map including the different dimensions and steps in career management such as career planning, career discussions, career counselling, and specific career development programmes. Likewise, similar methodologies were developed for all the other HR professional practice standards outlined below.
Out of an initial list of 30 Professional Practice Standards, the following practices were prioritised according to the needs of South African organisations:
Absenteeism management
Career management
Coaching and mentoring
Collective bargaining
Dispute resolution
Disciplinary procedures
Grievance procedures
Employment equity and diversity management
Leadership development
Learning design
Learning needs analysis
On-boarding
Organisation design
Performance appraisals
Recruitment
Selection
Remuneration benchmarking
Succession planning
In addition to this list, more professional practice standards will be developed in a collaborative mode as and when the need is identified by the market. The goal is to ensure that clear national guidelines are available for all HR practices, irrespective of the size of the organisation or the industry.
As has been the case with all our other Standards related events, feedback was enthusiastic and emotional, underlying the fact that delegates feel that this is a nation-building process over and above setting HR professional standards, that they are proud to be part of it, and that they have learned a lot in the process from their HR colleagues. Louise McMillan, HR Consultant at EOH Educos says: "The standardisation and alignment of the processes in the HR profession is essential for the ongoing accountability of HR in terms of business success in the future." Tebogo Masindi, HR Manager at Fraser Alexander Bulk Mech added: "Being part of this important event in history cannot be replaced by anything that I could have done today. We are shaping the future of HR profession in South Africa." Nceba Ndzwayiba, Transformation Manager at Netcare regarded the HR professional practice standards as "a very exciting innovation that will revitalise HR practice in South Africa."
The outputs of the groups have now been typed up and circulated for comment and further suggestions, first to the delegates from the 14 May standards development groups, and then to a wider group of HR managers and other interested parties. HR managers and members of the public are welcome to comment on the HR professional practice standards on the SABPP blog www.hrtoday.me. The final version will be launched as part of the proceedings of the second annual HR Standards Conference on 28 August at the Sandton Convention Centre.
In conclusion, the HR professional practice standards provide opportunities for HR professionals from all nine provinces to standardise the quality of HR practices in order to achieve a higher level of professionalism, excellence and consistency in HR practice. Moreover, a national HR auditing framework has been developed to ensure independent verification on the consistency and quality of the HR management system of organisations, including specific HR practices underpinning the HR system. We look forward to receiving comments from the market and to launch the final version in August.
Penny Abbott , Head of Research and Marius Meyer, CEO of SABPP. Reach them on twitter @SABPP1 or at website www.sabpp.co.za Please join us for the Second Annual HR Standards Conference on 28 August at Sandton Convention Centre, contact chantal@hrfuture.net